Are Digital Coupons Shifting to Price?
Lack of Volume and Lower ROI's a Concern
By Andrew Dewey Rumpelt
As if the Independent Grocer doesn't have enough to worry about, the future of digital coupons may evolve into custom pricing for the large chains. That's if the major retailers get their way.
It is hard to believe that digital coupons have been around for nearly 25 years the invention of the Internet (by Al Gore) led to the downloaded printable coupon and online coupons. The initial promise of digital coupons was the quick ability to respond to competitive threats, incredible efficiencies, the ability to target consumers, and on and on… and even replace the paper FSI. In reality, digital offers can be developed and trigger a sale more quickly than FSI's, but the rest of the benefits and value proposition is rather limited, depending on category and brand.
In a recent Kantar Media blog post, digital coupon circulation grew by 23.4% in the first half 2016. Even with this growth rate, digital coupon distribution is relatively small and doesn't have the scale of FSI's. Moreover, Digital coupons are still dwarfed by other tried and true methods like Shelf Coupons (i.e. News America SSCM's) and In-Packs, On-Packs and Instant Redeemable Coupons (IRC's). Furthermore, a recent Industry Coupon Trends report by Inmar highlights the various coupon delivery methods of which digital coupons remains at only 2% of all coupons distributed, and 9% of all coupons redeemed. It is also important to note that digital coupon redemption has been sliding over the past few years.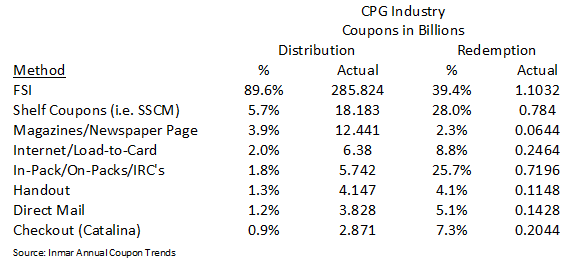 Digital offers actually cost more on a cost per unit moved than FSI's, and may not have scale to be able to cover the U.S. like an FSI. According to a consumer promotion executive, "cpg's are seeing lower ROI on digital… and the volume associated with incremental merchandising is a concern." It is estimated that digital coupons accounted for nearly $800 million in 2015, up significantly from $678 million in 2014. And a good portion of these monies are being driven though the Top 5 retailers, which, by some estimates, account for 80% of all download to card transactions.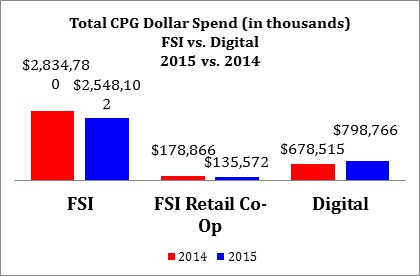 Sources: Marx, Kantar Media 2015 FSI Trends. Dollar spends include estimate redemption rates for non-food and food segments and estimated FSI insertion cost. Redemption spends calculated by number coupons times an estimated redemption rate. Insertion cost assumes that the total cost of an FSI is comprised of 60% redemption and 40% insertion costs, on average.
Simplified, there are three main types of digital coupon delivery methods, Print at Home, Load to Card and Mobile Receipt Apps.
Print at Home (Coupons.com) is where the shopper prints a coupon on a printer. With the cost of colored ink cartridges, the value proposition is quickly absorbed into to ink and paper costs, let alone the hassle of loading software for some, and having to cut the coupon out too!
Load to Card (retailer specific) is where a shopper clicks a digital offer and it is loaded to their loyalty account and when the item is purchased, the discount is applied. Retailers like Load to Card as it can maintain customer loyalty compared to a Print at Home which can be used anywhere. Load to Card offers is where the digital coupon growth coming from.
Mobile Receipt Apps (i.e. Checkout 51) is where a shopper selects an item via the app, purchases the item(s) and take a photo of the receipt and is mailed a check or able to use the savings in other ways.
However, the digital providers must solve some basic marketing questions in order to continue to grow. Unlike the FSI, the digital offers do not have the space to communicate the consumer benefit that drives brand equity and gives consumers a reason to buy. Without consumer benefit communication, load to card offers may be classified as a trade spend vs. a consumer promotion offer. Other issues are scale, fraud, whether handling fees are too much for an all-digital transaction, and stacking.
In a previous article (read here) I noted the acquisitions within the digital space during the past several years. These acquisitions may provide some insight into the future of digital coupons. Of note, Coupons, Inc., has acquired Shopmium, a mobile receipt app and News America acquired Checkout 51, another mobile receipt app. Coupons Inc. also changed its name to Quotient Technologies, Inc., reflecting more of the software side of the company. Companies are buying backend capabilities, client lists, and hedging their bets that a complete 360-degree software solution is the future of digital, from management, targeting, delivery, and auto-analytical results.
However, times may be rapidly changing for digital coupons, especially if ecommerce continues to grow which may lead to more focus on price points. While it is impossible to predict the future, here are my predictions from where I sit today:
Digital coupons will never reach a scale for national coverage, as there is just too much fragmentation.
Load to Card offers will continue to grow, especially if it can speed shoppers through the self-check out lines, though as much as people would expect.
As ecommerce grows, retailers may want the cost of digital coupons to be converted into cost of goods (a.k.a. custom pricing) to drive low net prices, or to maximize revenue.
The paper FSI will add "Click & Collect" points as part of its distribution, or another paper delivery method will be created by and for ecommerce.
In conclusion, the next several years will strain and challenge both retailers and manufacturers to develop the right "recipe" for their shoppers and consumers. Ease, convenience and speed, along with savings are a recipe all shoppers want. Choosing the right strategy will separate the winners from the losers.
About the Author Andy "Dewey" Rumpelt:
Andy "Dewey" Rumpelt has spent 25 years in CPG and is considered an expert on trade, consumer and media insights. Andy started his career at American Home Foods in field sales progressing to brand management on many brands in which trade promotion was a crucial aspect of marketing activities. Andy also worked for ACNielsen. Most recently Andy was Vice President at Kantar Media/Marx, where he provided key insights on consumer FSI, digital, and advertising insights for some of the largest CPG companies in the country. Andy is currently the owner of PRICE-TRAK.
About PRICE-TRAK, National Promotion Reports, LLC (formerly Leemis/PromoData):
PRICE-TRAK provides specialized competitive cost and trade reports, and monitors 150 standard warehouse categories. PRICE-TRAK provides easy to use syndicated reports to monitor price changes and trade allowances. PRICE-TRAK also supports grocery wholesalers to assist with pricing and promotional allowance understanding to help ensure grocery wholesalers have the tools necessary to remain a viable channel.
Contact:
Andrew "Dewey" Rumpelt
PRICE-TRAK
518-599-0526 office
518-275-5464 cell
andy@natpromo.com
###