Bob Cristofono
National Promotion Reports
612-382-4166
bob@natpromo.com
FOR IMMEDIATE RELEASE: 8/18/2014
New York, NY
High Dairy Price Increases Seen In First Half Of 2014
Common Consumer Dairy Products See High Spikes
New York, NY: Today, National Promotion Reports, LLC, a market research company specializing in the reporting of competitive cost and promotion allowances for manufacturers, announced the findings of a important pricing study. This study has identified price increases across 14 heavily shopped food categories for the 1st half of 2014. The study included data that was collected from a confidential panel of retailers and grocery wholesalers and included nearly 14,240 items.
In the 14 studied categories, a total of 2,363 items (or 17%) took a price increase with an average percent change of 6.4% or $.16 per unit. The average cost of an item went from $2.49 to $2.65.
Dairy prices, which were correctly projected to rise by government forecast, after a harsh winter in the Midwest limited milk output, have increased most significantly. Fifty-six percent of all cheese items tracked took a price increase in the first half of 2014. The other categories that led price increases were Yogurt and Butter/Margarine.
"These categories have been impacted by the harsh winter based on government reports. We are seeing the effects as growers/farmers need to pass along higher prices. These price increases are usually passed through the supply chain thus impacting consumers", stated Bob Cristofono, VP Sales, National Promotion Reports.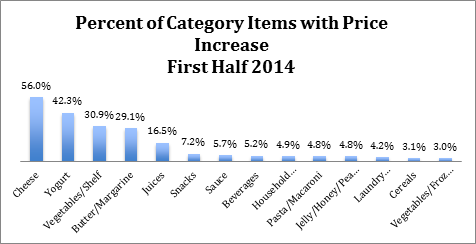 Of all the items that took price increases, Butter/Margarine rose by 9.4%, the highest percent change of any of the 14 studied categories. Other categories where price increases were over 8% were Shelf Stable Vegetables, Juices, and Household Cleaning Products. "When manufacturers need to take a price increase, we are seeing the increases are aggressive," added Cristofono.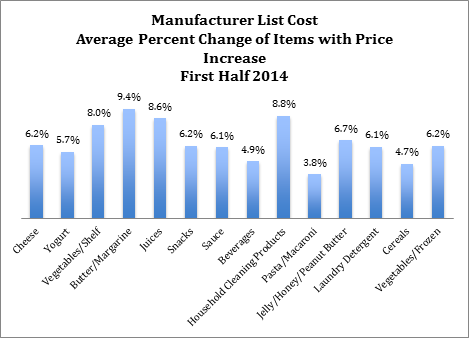 In the study the average prices being reported are for only items whose price increased. However, the average price is indicative of the increasingly high cost of grocery items.
Nearly all manufacturers have on-going cost savings initiatives to either maintain critical price points or increase profitability. "Most items in the grocery store have critical price thresholds such at $.99, $1.99, $2.99. Manufacturers need to be mindful of the impact that price increases have on consumers and retailers, especially the small independents and indirect chains who purchase items from grocery wholesalers. These grocery wholesalers have unique business models," concluded Cristofono.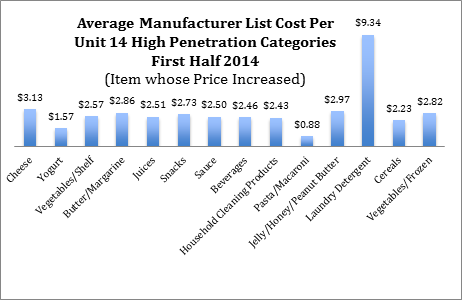 Grocery wholesalers primarily service independent retailers who make up an estimated 25% of all supermarket revenues according to the National Grocers Association, a trade organization whose mission is to support independent grocers and wholesalers. NGA states "Many independent grocers have existed for generations and are often the corner-store of their communities." Price increases can squeeze the margins of this segment, especially at key price thresholds or shoppers may go elsewhere.
About National Promotion Reports, LLC:
National Promotion Reports provides specialized reports for both the retail and foodservice sectors. Their reports identify pricing and promotional allowance insights. The Price-Trak Report monitors 150 standard warehouse categories provided by consumer packaged goods manufacturers. Price-Trak provides easy to use syndicated reports to monitor price changes and competitive trade allowances throughout the country. National Promotion Reports also supports grocery wholesalers to assist with pricing and promotional allowance understanding to help ensure grocery wholesalers remain a viable channel within the consumer packaged goods industry. For more information on this study or other inquiries, please contact bob@natpromo.com or 888-435-3551.
###