Consumer Promotion Spending Softens in 2016
While Trade Rates Remain Steady
By Andrew "Dewey" Rumpelt
Two recent analyses on key promotion trends one for coupons by Inmar, a technology and data analytics company, and the second for trade rates by PRICE-TRAK indicate brands have continued to pull back on consumer promotion spending while maintaining trade rates.
In 2016, overall coupon distribution (i.e. digital, FSI, in-store, checkout) was down -4.3% and redemption down -4.1% according to the Inmar study. While consumer promotion spending on coupons softened, overall trade promotion rates remained steady at 14.8% of list cost, according to PRICE-TRAK, an Albany, N.Y.-based market research company specializing in price and trade promotion.
In fact, there were 13 billion fewer coupons available in 2016. The largest distribution sector being FSI coupons that account for 90% of the 307 billion coupons distributed last year. FSI coupon redemption declined by 13%, and distribution was off by 3.3% (see table below). This was the fourth double-digit decline in redemption in the last 5 years. Using average redemption rates, the decline represents roughly $1 billion that marketers either dropped to the bottom line or chose to spend elsewhere through more targeted vehicles.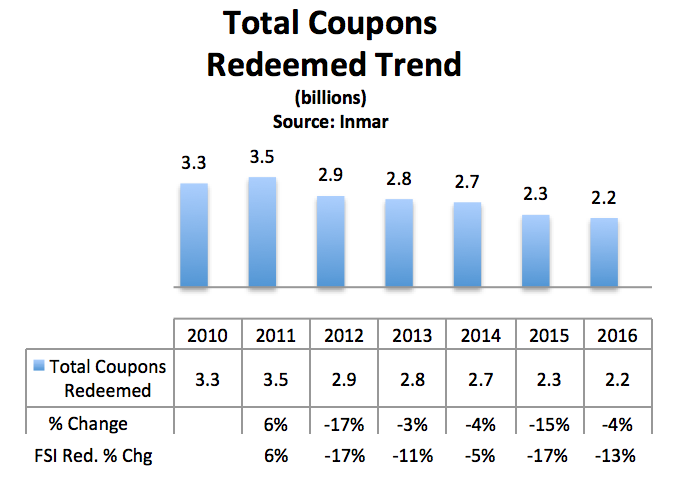 Digital delivered coupons are growing and continues to have a bright future most pundits would say. Load to Card, for example, has a redemption rate of 6.2% in 2016, up from 5.2% in prior year. However, L2C only accounts for a tiny fraction of coupons, .4%. In fact, Total Digital coupons still only account for low single digits of all distributed coupons and the implementation costs per coupon redeemed are still higher than the FSI.
Many brand managers see the growth of e-commerce with the ability to target to specific audiences through digital vehicles as the future of consumer promotion. This coupled with the excessive FSI newspaper list have more marketers looking at digital vehicles. For consumers, many FSI coupons are more complex to use thus limiting their desire to utilize. These factors are one reason why coupon distribution continues to decline in the author's opinion.
Earlier this year, PRICE-TRAK reported the overall trade rate it monitors remained steady at 14.8% (see chart below) although several segments did see increased trade spending. The Household and Refrigerated Foods segments had slight increases in trade rates while Cereals and Health Care showed the largest declines. Cereals % of total trade spending was the highest reported at 19.1% of list cost while Personal Care had the lowest level of trade spend at 13.1%.
It is reasonable to assume some of overall flatness in trade promotion funds could mean that funds are being directed to other consumer promotion activities for additional trade incentives/discounts in those segments. This should be positive news for retailers who have seen center store categories flat for several years. Increased trade rates mean lower prices for the shopper, and lower prices mean more volume.
Conclusion:
Having the right balance of both the FSI and Digital coupons to reach the shopper, and having the right trade promotion incentive at retail is key for brand success. The best and most effective promotions work together, and deliver the brand benefit or reason to buy.
About the Author Andy "Dewey" Rumpelt:
Andy "Dewey" Rumpelt has spent 25 years in CPG and is considered an expert on trade, consumer and media insights. Andy started his career at American Home Foods in field sales progressing to brand management on many brands in which trade promotion was a crucial aspect of marketing activities. Andy also worked for ACNielsen. Most recently Andy was Vice President at Kantar Media/Marx, where he provided key insights on consumer FSI, digital, and advertising insights for some of the largest CPG companies in the country. Andy is currently the owner of PRICE-TRAK.
About PRICE-TRAK, National Promotion Reports, LLC (formerly Leemis/PromoData):
PRICE-TRAK provides specialized competitive cost and trade reports, and monitors 150 standard warehouse categories. PRICE-TRAK provides easy to use syndicated reports to monitor price changes and trade allowances. PRICE-TRAK also supports grocery wholesalers to assist with pricing and promotional allowance understanding to help ensure grocery wholesalers have the tools necessary to remain a viable channel.
Contact:
Andrew "Dewey" Rumpelt
PRICE-TRAK
518-599-0526 office
518-275-5464 cell
andy@natpromo.com
###