Andrew "Dewey" Rumpelt
PRICE-TRAK
612-382-4166
andy@natpromo.com
FOR IMMEDIATE RELEASE:
09/08/2016
Coffee Prices Continue to Fluctuate
Recent Price Rollbacks by Folgers and Maxwell House May Not Last Too Long
Albany, NY: The cost of some of Americas favorite coffee brands have dropped in the past year, according to the latest data from PRICE-TRAK, an Albany, N.Y.-based market research company specializing in price and trade promotion reporting of 150 standard categories.
In 2015, the cost of Arabica beans dropped 20% on the world market, and brands like Folgers, Maxwell House and Dunkin Donuts have passed those savings on to their customers. However, Andy "Dewey" Rumpelt, president of PRICE-TRAK, www.natpromo.com notes: "I think it is fair to say that price declines are over and consumers will see retail coffee prices escalate due to growing world demand and dwindling stockpiles."
In June 2016, we saw Folgers ground/whole bean take a price decline of -6%. This was on top of -6% price decline on many of its varieties the prior August (2015) while Maxwell House responded and took the same percent decline in October. In June of this year, we also saw Dunkin Donuts dropped prices by -7%. In contrast, The K-Cup/Pod segment last saw a price change in Q4 2014. That price change was a significant price increase of +9% on many K-Cup varieties from 8 O'clock, Caribou, Green Mountain, Maxwell House, Newman's Own and Tully's per PRICE-TRAK, which has been monitoring retail food prices for 40 years.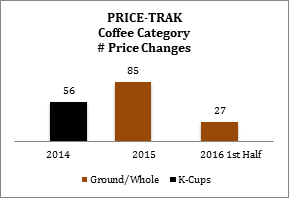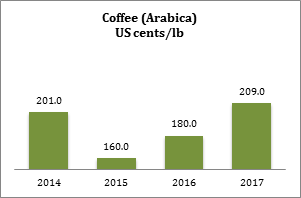 About PRICE-TRAK, National Promotion Reports, LLC (formerly Leemis):
PRICE-TRAK provides specialized competitive cost and trade reports, and monitors 150 standard warehouse categories, and provides manufacturers with easy to use syndicated reports to monitor price changes and trade allowances. PRICE-TRAK also supports grocery wholesalers to assist with pricing and promotional allowance understanding to help ensure grocery wholesalers and independents have the tools necessary to remain a viable channel and compete effectively. For more information please contact PRICE-TRAK at info@natpromo.com
###