Andrew Rumpelt
Price-Trak
518-275-5464 cell
andy@natpromo.com
FOR IMMEDIATE RELEASE:
03/10/2016
Albany, NY
Total CPG Trade Rate Increases to 15.1% in 2015
All Major Segments Post Increases
New York, NY: Today, Price-Trak, a market research company specializing in the reporting of cost and promotion allowances, announced the findings of their "2015 Year End Insight on Trade Promotion Spend". The study included data that was collected from a confidential panel of wholesalers and retailers and included nearly 40,000 items and over a half million trade promotions or deals.
The average trade allowance for the Total CPG marketplace rate was 15.1%, up 1.7% points from YAGO. This represents a large increase from the 13.4% in 2014. And, considering the size of the CPG marketplace, by some estimates upward of $750 billion in retail sales, the increase represents billions in incremental trade monies.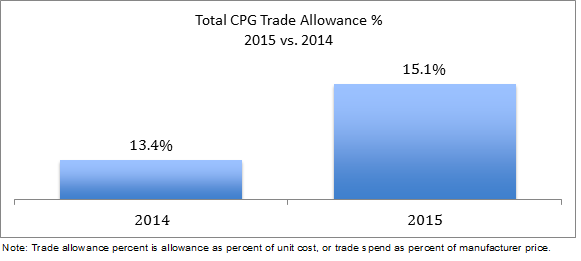 "Millenials are increasing harder to reach with advertising or consumer promotion, they don't watch TV and don't read newspapers like the baby boomers. Therefore, with media becoming more fragmented, having the right price at retail and providing trade incentives, is critical." stated Andy Rumpelt, President, Price-Trak. "Trade allowances can vary widely by category and item, and remain the most important part of the overall marketing mix for brands and retailers."
Every major segment posted an increase trade rates. The Frozen Foods segment, +2.7% points to 14.2%, and Refrigerated Foods segment, +3.5% points to 13.8%, showed the largest increases. The fact that every segment increased trade spending reflects an industry wide emphasis to target the shopper at the point of sale.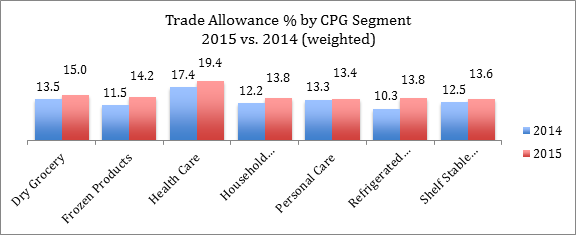 With trade promotion spending comprising up to 50% of a brands marketing spend, it remains the most critical component of marketing expenditures. In 2016, given rising food prices, the CPG industry will continue to emphasize ways for retailers and manufacturers to co-promote and work together to not only drive effective trade spending, but also creating value for the shopper. After all, the shopper likes deals more than anyone!
About Price-Trak, National Promotion Reports, LLC (formerly Leemis):
Price-Trak provides specialized price and trade insights, and monitors 150 standard warehouse categories. Price-Trak provides easy to use syndicated reports to monitor price changes and trade allowances. National Promotion Reports also supports grocery wholesalers to assist with pricing and promotional allowance understanding to help ensure grocery wholesalers have the tools necessary to remain a viable channel. For more information on this study or other inquiries, please contact andy@natpromo.com or 518-275-5464.
###