Bob Cristofono
National Promotion Reports
612-382-4166
bob@natpromo.com
FOR IMMEDIATE RELEASE: 01/30/2015
New York, NY
CPG Trade Rate in 2014 at 13.4%
Dry Grocery Segment May Not Be Receiving Fair Share of Trade Promotions
New York, NY: Today, National Promotion Reports, LLC, (formerly Leemis) a market research company specializing in the reporting of competitive cost and promotion allowances for manufacturers, announced the findings of their 2014 year end insights on costs and trade promotion allowances. The study included data that was collected from a confidential panel of wholesalers and included nearly 40,000 items covering all major segments within the consumer packaged goods industry.
Average Trade Promotion Allowance Rate
The average trade allowance rate was 13.4%. This is calculated by the trade allowance as a percent of the manufacturer unit cost to the retail trade.
| | |
| --- | --- |
| Total Items | 39,227 |
| Average Unit Cost | $3.11 |
| Average Deal/Deal Percent | $0.42/13.4% |
| Net Unit Cost | $2.69 |
"The key challenge of trade allowances is to drive increased profitable sales by winning consumers with a discounted price at the optimal level", stated Bob Cristofono, VP Sales, National Promotion Reports. "Trade allowances can vary widely by category and item, and frequently accompany advertising and consumer promotions to drive consumer awareness and increase sales. The effective execution of sales strategies is a critical part of marketing; and often requires the manufacturers and retailers to work closely to create trade programs for their mutual benefit", concluded Bob Cristofono.
The below two charts show the importance of each segment to retailers; and the percent of deals each segment received in 2014.
Dry Grocery accounts for 50% of all items being stocked.
Refrigerated Foods, 14%, and Frozen Foods, 12%.

In contrast, Dry Grocery only received 45% of total deals despite carrying 50% of all items. However, Dry Grocery may be receiving longer deal periods, or more accrual-based trade offers, or higher proportion of digital coupon promotions. It may also be that retailers are placing more emphasis and focus on perimeter store items, which are higher priced/higher margin and cater to the on-the-go shopper. Either way, there appears an opportunity for key manufacturers and retailers to breath renewed energy in "center store" by making sure the items are priced right with the appropriate discounts and frequency. A renewed emphasis on trade promotions for center-store can help retailers drive foot traffic and size of the shopping basket.
Trade Allowance Rates by Segment
As noted above, Consumer Packaged Goods overall trade allowance percentage is 13.4%. However, it is important to note this does not reflect accrual monies, special allowances, and other lump sum monies like market development funds. Dry Grocery trade allowance rate is 13.5% while Health Care had the highest rate, 17.4% compared to Refrigerated Foods at 10.3%.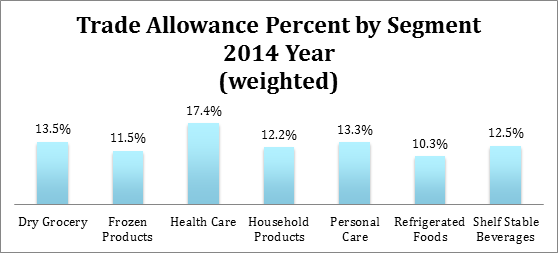 With trade promotion spending comprising up to 50% of a brands marketing spend, it remains the most critical component of marketing expenditures. In 2015, given rising food prices, the CPG industry will continue to emphasize ways for retailers and manufacturers to co-promote and work together to not only drive effective trade spending, but also creating value for the shopper. After all, the shopper likes deals more than anyone!
About National Promotion Reports, LLC:
National Promotion Reports provides specialized reports for both the retail and foodservice sectors. Their reports identify pricing and promotional allowance insights. The Price-Trak Report monitors 150 standard warehouse categories provided by consumer packaged goods manufacturers. Price-Trak provides easy to use syndicated reports to monitor price changes and competitive trade allowances throughout the country. National Promotion Reports also supports grocery wholesalers to assist with pricing and promotional allowance understanding to help ensure grocery wholesalers remain a viable channel within the consumer packaged goods industry. For more information on this study or other inquiries, please contact bob@natpromo.com or 888-435-3551.
###